Making the change from writing non-fiction to contemporary erotic romance has been a long time coming, but the seeds sown that grew into the desire to write romance really began when I was in fifth grade. My mother gave me Jane Eyre to read when I was home from school with a bug.
Wow. Edward Fairfax Rochester was the first alpha male to permeate my consciousness. Shy and submissive but feisty Jane, was his perfect foil. Even at that age, I loved the intense, bossy and sexy Rochester. And Jane, though compliant, kicked butt when needed.
That was it. I was addicted. From then on I gobbled up romance novels as fast as I could. By high school I yearned to become a romance writer, but it would take decades to begin my writing journey.
Until now.
And right here and now is all that counts.
"Currents of Passion," the first of three novels in my Riverbend series, takes place in a small town in Pennsylvania along the Delaware River. My sweet, sexy, heroine Cassie, with a spine of steel, tangles and tangos with Marcus, a seductive, dominant male scarred inside and out.
Will she allow him to turn her fantasies for hot kinky sex into reality? Will he trust the emotional haven she offers in her surrender to his dominance and open himself to love?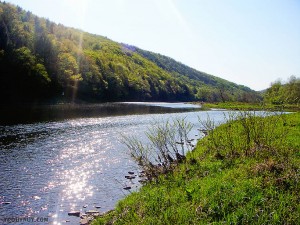 The Delaware symbolizes the lovers' relationship: when at rest, the calm surface belies the deadly currents below. In destructive flood stage, they both may be swamped, submerged completely. Will the river destroy their hopes, dreams, love and even their lives?
Look for "Currents of Passion" next year.
Many years ago I left Brooklyn, NY and moved to Pennsylvania with my family. It was not an easy adjustment to make—from city lights and noise, which was actually comforting at night, to dark and quiet, except for the sound of crickets. With my children grown and out and about in the world, I continue to work as a mental health practitioner, and live on a bluff overlooking the Delaware—the perfect place to dream, think and spin stories of love and passion.